Block F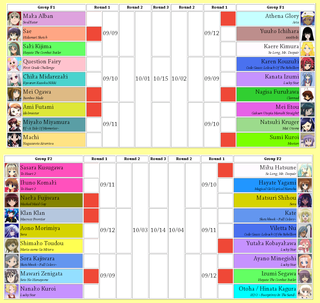 We are finally down to the last three blocks of SaiMoe's exhausting round 1. Unlike the past two blocks, we don't have quite as many heavy hitters, but there are some dark horses - like a Nagisa or a Klan Klan.
[[F01]] 9/09
<<マカ=アルバーン@ソウルイーター>>(Maka Alban@Soul Eater)
<<沙英@ひだまりスケッチ 特別編>>(Sae@Hidamari Sketch)
<<貴嶋サキ@ハヤテのごとく!>>(Kijima Saki@Hayate no Gotoku!)
This matchup is pretty much Maka vs. Sae, and Sae will probably win. Sae is the last Hidamari girl to make it into round two, as Hiro, Yuno, and Miyako have punched their tickets for the next round. Teh Hidamari is strong this year, and I don't see Maka doing too well, especially since she's coming from a Shonen series that's not built to make Maka a moe character.
[[F02]] 9/10
<<はてなようせい@チャレンジ1年生でかっこいい1年生にへんしん!DVD>>(Hatena Yousei@Challenge Ichinensei de Kakkoii Ichinensei ni Henshin!)
<<乱崎千花(姫宮千子)@狂乱家族日記>>(Midarezaki Chika@Kyouran Kazoku Nikki)
<<小川芽衣@バンブーブレード>>(Ogawa Mei@Bamboo Blade)
This is pretty much a match nobody really cares about. Mei just seems to be the strongest in this group.
[[F03]] 9/11
<<双海亜美@アイドルマスター シリーズ>>(Futami Ami@IDOLM@STER)
<<宮村みやこ@ef - a tale of memories.>>(Miyamura Miyako@ef - a tale of memories.)
<<まち@ながされて藍蘭島>>(Machi@Nagasarete Airantou)
I was on the fence with this pick to go with one of the other girls, but I felt that Ami is the strongest Idolmaster girl to possibly make it to the next round. That, and I have not seen enough of Miyako or seen Nagasarete Airantou to really make those picks.
[[F04]] 9/12
<<アテナ・グローリィ@ARIA シリーズ>>(Athena Glory@ARIA the Origination)
<<壱原侑子@xxxHOLiC◆継>>(Ichihara Yuuko@xxxHOLiC Kei)
<<木村カエレ@さよなら絶望先生>>(Kimura Kaere@Sayonara Zetsubou Sensei)
This may just be wishful thinking on my part. Then again, Alicia and Akira did very well - too bad they were in a split vote group with Louise and got eliminated. Yuuko is NOT moe, and somehow doubt the Japanese will support a "supposed" foreigner in Kaere. Athena's singing voice also recently died, making this the sympathy vote as well.
[[F05]] 9/09
<<紅月カレン@コードギアス 反逆のルルーシュ R2>>(Kouzuki Karen@Code Geass Lelouch of the Rebellion R2)
<<泉かなた(こなたの母)@らき☆すた>>(Izumi Kanata@Lucky☆Star)
<<古河渚@CLANNAD>>(Furukawa Nagisa@Clannad)
Nagisa. By a long shot. She's gonna soul crush this group, and quite possibly the block. Her only competition in this block anyway is Sae, Klan, Miku, and Hayate anyway, and she only will face Sae and one of the other three in the later rounds.
[[F06]] 9/10
<<衛藤芽生(めぇ)@がくえんゆーとぴあ まなびストレート!>>(Etou Mei@Gakuen Utopia Manabi Straight!)
<<ナツキ・クルーガー@舞-乙HiME Zwei>>(Natsuki Kruger@My-Otome Zwei)
<<黒威すみ(てんぺらスミ)@もえたん>>(Kuroi Sumi/Tempera Sumi@Moetan)
This is a gut feeling vote. Flip a coin with Sumi and Mei on this one.
[[F07]] 9/11
<<久寿川ささら@ToHeart2 シリーズ>>(Kusugawa Sasara@ToHeart2 series)
<<小牧郁乃@ToHeart2 シリーズ>>(Komaki Ikuno@ToHeart2)
<<富士原なえか@仮面のメイドガイ>>(Fujiwara Naeka@Kamen no Maid Guy)
I was gonna go with one of the TH2 girls, but then I realized this is a split vote group. I think Naeka will squeak by this round on split votes and make it into the next round. Barely.
[[F08]] 9/12
<<クラン・クラン@マクロスFRONTIER>>(Klan Klan@Macross Frontier)
<<森宮蒼乃@sola>>(Morimiya Aono@sola)
<<藤堂志摩子@マリア様がみてる OVA>>(Toudou Shimako@Maria-sama ga Miteru OVA)
This has actually turn into a pretty good matchup as of late. Klan Klan is getting some major airtime right now in Macross Frontier (series is due to end this month). Aono is not a sneeze over character, and Shimako is a proven SaiMoe veteran. However, the Klan Klan will be too strong in this group, especially since the death of her lover and her subsequent kick ass scene the next episode will propel her to go deep in this block. It also helps to be able to switch back and forth between being a loli and a HEALTHY girl.
[[F09]] 9/09
<< 梶原空@スケッチブック 〜full color's〜 >>(Kajiwara Sora@Sketchbook ~full color's~)
<<銭形巡@瀬戸の花嫁>>(Zenigata Mawari@Seto no Hanayome)
<<黒井ななこ@らき☆すた>>(Kuroi Nanako@Lucky☆Star)
Dunno really who will win this group. Just roll a d3 and move on.
[[F10]] 9/10
<<初音ミク@俗・さよなら絶望先生>>(Hatsune Miku@Zoku Sayonara Zetsubou Sensei)
<<八神はやて@魔法少女リリカルなのはStrikerS>>(Yagami Hayate@Magical Girl Lyrical Nanoha StrikerS)
<<四方茉莉@sola>>(Shihou Matsuri@sola)
I was seriously thinking about jumping off the Miku bandwagon, but I'm gonna stick it out with her. Hayate will be a force to be reckoned with though, and Matsuri will look to play spoiler here. Wow, the main girls in Sola really got shafted.
[[F11]] 9/11
<< ケイト@スケッチブック 〜full color's〜 >>(Kate@Sketchbook ~full color's~)
<<ヴィレッタ・ヌゥ@コードギアス 反逆のルルーシュ R2>>(Villetta Nu@Code Geass Lelouch of the Rebellion R2)
<<小早川ゆたか@らき☆すた>>(Kobayakawa Yutaka@Lucky☆Star)
Going with Yutaka here in the battle of side characters. Yutaka has some of the charm of Konata, and I doubt the KyoAni faction will let her down in this block.
[[F12]] 9/12
<<峰岸あやの@らき☆すた>>(Minegishi Ayano@Lucky☆Star)
<<瀬川泉@ハヤテのごとく!>>(Segawa Izumi@Hayate no Gotoku!)
<<音羽/神楽ひなた(本物)@H2O -FOOTPRINTS IN THE SAND->>(Otoha/Kagura Hinata@H2O -Footprints in the Sand-)
I see a Izumi win here, though I expect some competition with Otoha. This may end up being close.