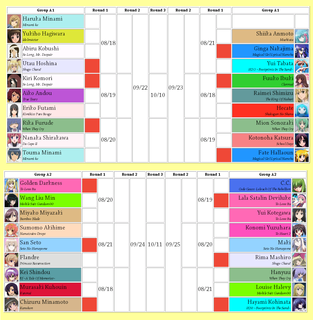 Continuation of my last blog post,
seen here.
Key:
Bold is for who I think SHOULD win
Italics if for who I would want to win
I would do bold italics, but blogger is gay and doesn't let me do both.
Block A:
Block A has a number of heavy hitters, including 2007 Saimoe champion, Rika Furude. However, the highlight match in this block is group A6's matchup between perennial favorites Mion and Fate, with a dash of one-year comer Kotonoha of School Days fame.
[[A01]] 8/18
<<南春香@みなみけ シリーズ>>(Minami Haruka@Minami-ke)
<<萩原雪歩@アイドルマスター シリーズ>>(Hagiwara Yukiho@IDOLM@STER)
<<小節あびる@さよなら絶望先生>>(Kobushi Abiru@Sayonara Zetsubou Sensei)
<<ほしな歌唄(月詠歌唄)@しゅごキャラ!>>(Hoshina Utau/Tsukuyomi Utau@Shugo Chara!)
Haruka and Yukiho may put up a fight, but I expect the Nana Mizuki voiced Utau Hoshina to advance into the next round. While Utau has not appeared all that much in Shugo Chara, her appearances (and her songs) have a definite impact in this 4 way brawl that will put her over the top of the rest of the field. It doesn't hurt that Shugo Chara is just wrapping up a successful first season, and we've already seen Utau's redemption in the series (like a certain other Nana Mizuki voiced character...).
[[A02]] 8/19
<<小森霧@さよなら絶望先生>>(Komori Kiri@Sayonara Zetsubou Sensei)
<<安藤愛子@true tears>>(Andou Aiko@true tears)
<<二見瑛理子@キミキス pure rouge>>(Futami Eriko@Kimikiss pure rouge)
This is one of those matches where I wish I had seen a series to get a feel for what may happen. I'm only guessing Kiri will win due to the more heavily popular anime series (Sayonara Zetsubou Sensei) compared to Eriko (Kimikiss Pure Rogue). I haven't seen enough of True Tears to make a guess at how well Aiko will do, but I don't figure her to be a factor here.
[[A03]] 8/20
<<古手梨花@ひぐらしのなく頃に解>>(Furude Rika@Higurashi no Naku Koro ni Kai)
<<白河ななか@D.C.II 〜ダ・カーポII〜>>(Shirakawa Nanaka@D.C.II)
<<南冬馬@みなみけ シリーズ>>(Minami Touma@Minami-ke)
Rika, last year's Saimoe champion, will probably steamroll her way into round two easily. I don't figure Nanaka or Touma to put up much of a fight at all.
[[A04]] 8/21
<<杏本詩歌@ムシウタ>>(Anmoto Shiika@Mushiuta)
<<ギンガ・ナカジマ@魔法少女リリカルなのはStrikerS>>(Ginga Nakajima@Magical Girl Lyrical Nanoha StrikerS)
<<田端ゆい@H2O -FOOTPRINTS IN THE SAND->>(Tabata Yui@H2O -Footprints in the Sand-)
In a battle of side characters, either one must stick out or you go with the one that is more popular. I have to go with the latter here, since Ginga has a fairly sizable fanbase (not like that of Nanoha or Fate, mind you) that she'll easily get through this round.
[[A05]] 8/18
<<伊吹風子@CLANNAD>>(Ibuki Fuuko@Clannad)
<<清水雷鳴@隠の王>>(Shimizu Raimei@Nabari no Ou)
<<近衛史菜/ヘカテー@灼眼のシャナII>>(Konoe Fumina/Hecate@Shakugan no Shana Second)
This is a interesting battle because Fuuko is a first time entrant while Hecate was a entrant last year (and between then and now, has been a bigger player in her own series). This may come down to a few swing votes either way, and I wouldn't be surprised if Hecate wins here. I don't figure Shimizu to be much a factor here, other then to possibly play spoiler.
[[A06]] 8/19
<<園崎魅音@ひぐらしのなく頃に解>>(Sonozaki Mion@Higurashi no Naku Koro ni Kai)
<<桂言葉@School Days シリーズ>>(Katsura Kotonoha@School Days)
<<フェイト・T・ハラオウン@魔法少女リリカルなのはStrikerS>>(Fate T. Harlaown@Magical Girl Lyrical Nanoha StrikerS)
If you had to choose a group matchup in this round, this is the matchup to choose. All three combatants are early and heavy favorites to win it all. Mion is a Higurashi powerhouse, and she'd love to get a chance to duel her fellow castmate Rika in this block. In her way is one year comer Kotonoha, infamous for NICE BOAT errr-- I mean School Days ending. We'll see how much the one year layoff (the series didn't get into the July 1st cutoff last year) will affect her votes. The other combatant is the always tournament winner favorite, Fate. After Nanoha's win in 2005, and being runner up in 2006, she was bounced early in last year's Saimoe in a epic bout with Suigintou of Rozen Maiden. In what may seem to be her last year of eligibility (for now anyway), she may have more votes and firepower then ever. This is the one matchup to vote and see, because it's very possible that whoever wins this matchup may end up winning the block.
Yes, i'm going Bela Karolyi over this matchup.
[[A07]] 8/20
<<金色の闇(ヤミ)@To LOVEる>>(Konjiki no Yami@To Love Ru)
<<王留美(ワン・リューミン)@機動戦士ガンダム00>>(Wang Liu Min@Gundam 00)
<<宮崎都@バンブーブレード>>(Miyazaki Miyako@Bamboo Blade)
No italics here, since I don't know much about any of the characters in this group. The winner is just pure guessing. xD
[[A08]] 8/21
<<秋姫すもも(現プリマ・プラム)@ななついろ★ドロップス>>(Akihime Sumomo/Prima Plum@Nanatsuiro★Drops)
<<瀬戸燦@瀬戸の花嫁>>(Seto San@Seto no Hanayome)
<<フランドル@怪物王女>>(Flandre@Monster Princess)
While I haven't much of any of these series as well, many people were upset that Seto was bounced out fairly early last year. I don't think she'll get far this year, but I do see her as the favorite in this round.
[[A09]] 8/18
<<新藤景@ef - a tale of memories.>>(Shindou Kei@ef - a tale of memories.)
<<九鳳院紫@紅>>(Kuhouin Murasaki@Kurenai)
<<源ちずる@かのこん>>(Minamoto Chizuru@Kanokon)
I don't see Kei to be factor in this matchup at all. However, this is a tricky fight, since Murasaki has a nice following, and Chizuru has a nice following. The advantage to me though is to Chizuru, since she's a main heroine and is closer to the definition of Moe then Murasaki, but it would not surprise me if Murasaki wins in a close one.
[[A10]] 8/19
<
>(C.C.@Code Geass Lelouch of the Rebellion R2)


<<ララ・サタリン・デビルーク@To LOVEる>>(Lala Satalin Deviluke@To Love Ru)


<<古手川唯@To LOVEる>>(Kotegawa Yui@To Love Ru)

C.C. this year will not have a easy road to duel rounds, with Lala in her way in this grouping, and possibly Rima in the next round. I think Lala has the advantage here, despite being a first timer. She has the main heroine line going for her, if anything. This may be a close battle, but we will see what happens.

[[A11]] 8/20
<<柚原このみ@ToHeart2 シリーズ>>(Yuzuhara Konomi@ToHeart2)
<<巻@瀬戸の花嫁>>(Maki@Seto no Hanayome)


<<真城りま@しゅごキャラ!>>(Mashiro Rima@Shugo Chara!)



I love Kotomi as much as the next person, but Rima (despite being a side character who shows up late in Shugo Chara) has her number. I would be very surprised if Rima does not "Bala-Balantsu" her way into the next round.

[[A12]] 8/21


<<羽入@ひぐらしのなく頃に解>>(Hanyuu@Higurashi no Naku Koro ni Kai)


<<ルイス・ハレヴィ@機動戦士ガンダム00>>(Louise Halevy@Gundam 00)


<<小日向はやみ@H2O -FOOTPRINTS IN THE SAND->>(Kohinata Hayami@H2O -Footprints in the Sand-)



This is actually a closer call then I first saw it. I still think Hayami may win, but Hanyuu is a very unknown variable here, considering she was not in last year's tourney but being part of the Higurashi cast. It would not surprise me at all if Hanyuu gets into the next round.



Well, that's it for Block A. Block B will be up before voting begins in that block. I do have all the images up for each block, if you shuffle around my photobucket if you wanna see all my picks beforehand.